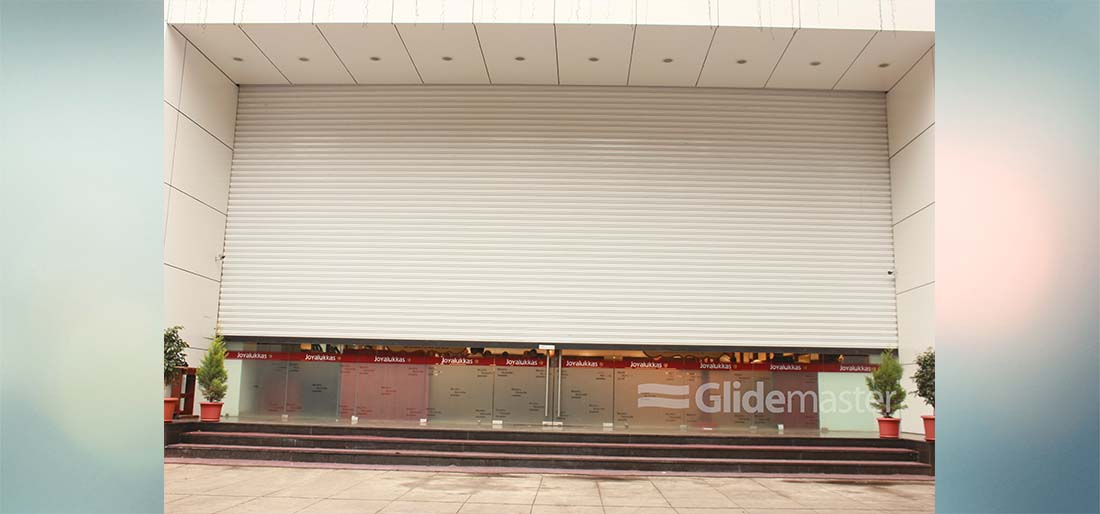 Rolling shutter doors are a major choice for businesses, industries, and homeowners alike due to their durability, security, finishes, and flexibility. They offer an easy-to-use solution for securing any type of property while also providing a variety of customization options to fit any aesthetic. However, with so many different types of rolling shutter doors available on the market today, it can be challenging to know which one is right for your needs. In this blog post, we'll explore the various types of rolling shutter doors available and discuss their unique advantages and maintenance requirements. So join us as we take a deep dive into the world of rolling shutter doors!
Glidemaster provides a wide range of rolling shutters in Kerala, and we also provide customization so you can customize it according to your needs. If you are looking for rolling shutters, contact us or WhatsApp us.
Also read: Which Automatic Roller Shutter Is Right For Your Shop Front
Rolling Shutters with Polycarbonate Windows
Polycarbonate and see-through versions of the roller shutters are the traditional and readily available options. Shops and showrooms use them to display a wide selection of goods for potential buyers to peruse. As they won't last a long time to work with, we have introduced metal shutters (Galvalume rolling shutters) with polycarbonate windows. Galvalume rolling shutters with polycarbonate windows make spaces more transparent and safer at the same time. The only drawback is the somewhat exorbitant price. A roller shutter made of transparent material provides a visually appealing level of transparency across the room. These rollup shutters open up the building to light and breezes from all directions. These rollup shutters are see-through, lightweight, and durable. Prices for these rolling shutters are astronomical.
Also read: Everything You Need To Know About Polycarbonate Rolling Shutters
Automatic Rolling Shutters
Mild steel, galvanized steel, and stainless steel are the raw materials used to produce automatic rolling shutters. Electric motors or gearboxes supply the propulsion for these shutters. 
There are several applications for automatic roller shutters. For a variety of business needs, these shutters are ideal. 
In the event of a power outage, they can be manually operated. In most cases, an electric motor and gearbox are used to power the roller shutters when they are set to operate automatically. 
These shutters include simple mechanisms that allow them to be opened and closed without much effort, making them a cost-effective option. When the opening size exceeds 8 square meters, automatic roller shutters should be utilized. These shutters are ideally suited for garage doors, commercial shutters, and industrial applications.
Manual Roller Shutters
As the name implies, manual roller shutters require manual operation. You can open and close them by turning a handle that is attached to them. Compared to their electric roller shutter counterparts, these are typically less expensive to produce. Because of this, they're frequently chosen by those on a budget. Electric shutters may be the ideal option if you need huge roller shutters that will need frequent adjusting.
Grill Rolling Shutters 
They are great for use as window dressing in stores and showrooms. You can even use it for windows, which will make your home look more aesthetic. Grill rolling shutters are the safest and airiest option for both ventilation and safety. It's constructed out of oblong steel bars, and it can be motorized for effortless use.
Conclusion
Rolling shutter doors are an excellent investment for both residential and commercial properties. They provide better security and protection against external elements such as wind, rain, and unauthorized access. There are several types of rolling shutter doors available on the market today to suit different needs. Sliding shutters, grille shutters, transparent shutters, and solid shutters all have their specific uses. Proper maintenance is crucial to ensuring that the roller shutter door functions optimally throughout its lifespan. Regular cleaning, lubrication of moving parts, and inspection by a professional can help extend its durability.
Also read: Top 10 Reasons to Install Automatic Rolling Shutters
If you're looking for reliable security solutions for your property or business premises, Glidemaster Impex India provides products of premium quality that, in addition to being aesthetically beautiful, satisfy our customers' needs for efficiency and security. Consider installing a high-quality rolling shutter door that suits your unique requirements. Proper installation and maintenance guidelines are followed diligently over time, leading to a longer life expectancy of the product and ensuring secure protection while maintaining the aesthetics of the building façade with custom-made designs.
We Glidemaster manufacture rolling shutters with premium galvalume prefinished strips (both Indian and imported). Galvalume strips have a higher corrosion resistance than traditional galvanized and MS materials and are more cost effective than aluminum materials.Glidemaster has different drive options to automate the rolling shutters. 
https://www.glidemasterindia.com/wp-content/uploads/2023/05/motorised-shutter-manufacturers-in-kerala.jpg
514
1100
admin
/wp-content/uploads/2020/08/logo-new.png
admin
2023-05-20 05:28:19
2023-05-20 05:28:19
Different Types of Rolling Shutters